Start
December 7, 2018
End
December 9, 2018
Address
India Habitat Centre, Lodhi Road, New Delhi
View map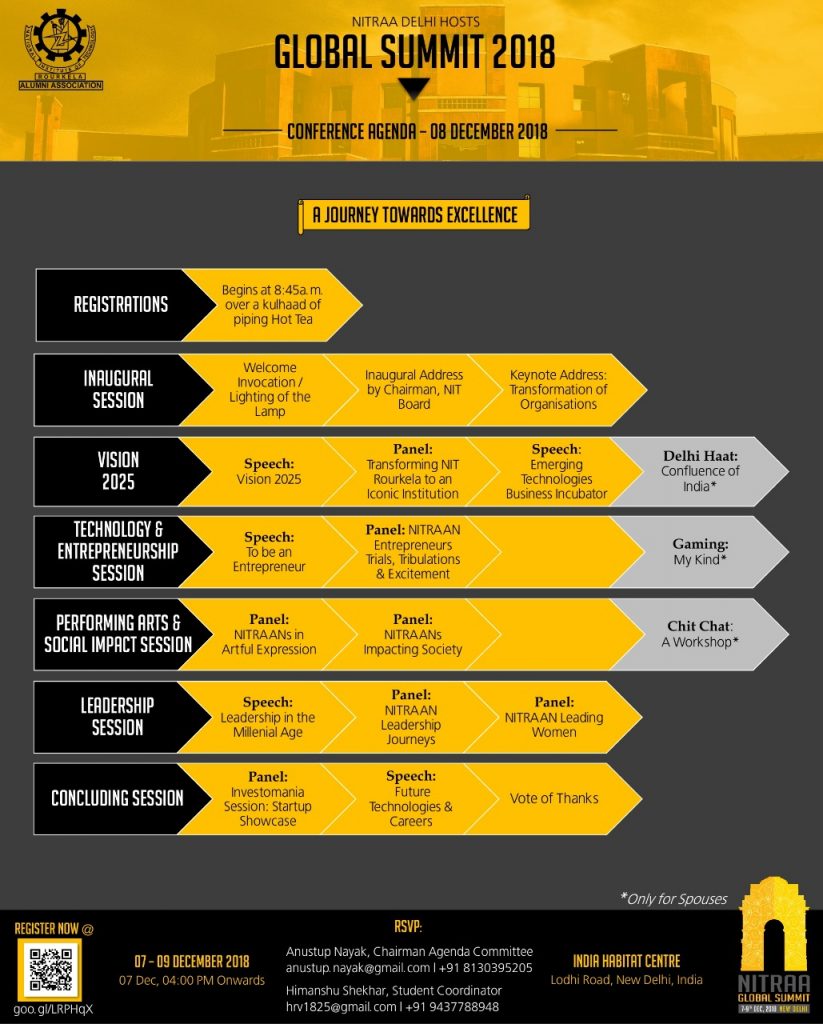 The Alumni association of the NATIONAL INSTITUTE OF TECHNOLOGY, ROURKELA (NITR), NITRAA, is pleased to announce that it is holding it's Global Alumni Summit- 2018 on the 7thto 9th of December, 2018 at the INDIA HABITAT CENTER, NEW DELHI.
The Global Summit will attempt to look at the continued rise of India. With the best minds of the world converging at the Global Summit 2018, we seek to weave together a complex, seemingly diverse thoughts into an intricate tapestry that captures the essence and purpose of national building  and identify whatever it has taken for us to reach here, and whatever it will take to move further ahead.
Industry Leaders Convene face to face and help maintain the vibrancy of Alumni and ensure long term sustainability. Platform for the men and women who shape our tomorrow to converge under one roof.
An Attendee to the summit is a partner, a critical component of the ecosystem that churns out the ideas for our collective future. Participate to create greater efficiencies and cross pollination of Ideas.
Platform to nuture ideas, gain visibility  and advance them by forming connections with the people evaluating and creating next generation of Technology and Investments
Ripest recruiting ground in todays's landscape
Ideal opportunity to showcase technologies and services to Influential Professionals, Angel Investors, Analysts and consumers from around the globe.
MORE DETAIL
Website